What is the Undergraduate Research Conference?
The Undergraduate Research Conference is an annual conference where UC Davis students present their individual research projects under the supervision of faculty sponsors or law/medical professionals. Students in all academic fields, including STEM majors, social science majors, and art majors who conducted independent research are welcome to show their work. The goal of the conference is to encourage undergraduate students to pursue higher degrees after undergraduate and to conduct research in their discipline.
When and where is the Undergraduate Research Conference?
The Undergraduate Research Conference usually happens towards the end of April every school year. This year, the 29th Undergraduate Research Conference of 2018, will be on Friday April 27th from 3-7 PM (ARC Pavilion) and Saturday April 28th from 1-4:30 PM (Wellman Hall). The poster session and art exhibition are at the ARC Pavilion, and the oral presentations are at Wellman Hall.
How can I show my work at the Undergraduate Research Conference?
If you are interested in participating as a presenter, make sure to talk to your faculty research supervisor early and submit your abstract in February. There are three types of presentation.
1. Poster Presentation: a 60 minute poster session will be assigned to each presenter. The posters will be shown at the ARC Pavilion, while presenters stand next to them to give short talks and answer questions. UC Davis Undergraduate Research Center provides free poster printing before the conference.
2. Oral Session: each presenter will have a 15 minute oral session to introduce the research, including their research interest, hypothesis, methods, and results. PowerPoint slides are often used.
3. Art exhibition: The art exhibits are in the same area as the poster presentations. The exhibition allows students to showcase their research results in the form of studio art, design and multimedia.
Do I have to present in the conference by myself? Can I do it with my research partner?
Most students did their own independent projects and thus presented by themselves. If you happen to have a research partner collaborating on the same project, you will be able to present with them. Both students will have to sign up for the conference and submit the same abstract. Usually the group is not larger than 2 or 3, since the main focus of the conference is independent research.
Why should I go to the Undergraduate Research Conference? I am not doing research now.
First of all, the Undergraduate Research Conference is free for everyone! Second, it is a great chance to see what other students are doing and ask questions. If you have never done research before but interested, it is a good chance to ask how the students doing independent research find faculty supervisors, decide on research topics, etc. Also, since this is the largest research conference for undergraduates in UC Davis, you will be able to see more than 500 groups presenting on campus all in two days.
How can I get involved in research?
UC Davis is a research university, and according to a 2016 report, more than 40% of undergraduate students have participated in some kind of research. Speaking from my own experience, I will say that it is never too early, yet never too late (of course, not on the last day of your last quarter) to get involve in research as an undergraduate student in UC Davis. For first year students, many professors are willing to train younger students because they can stay in the research lab for longer. For upperclassmen, you already have background knowledge in the field and maybe know some laboratory techniques, so make use of that knowledge. You will be able to ask more in depth questions and get the grasp more quickly in research labs.
I advise that students interested in research can start by looking at profiles of UC Davis professors, and email the professors who do research topics that you are interested in. Express your interest towards the field, and ask if they have undergraduate researcher openings in their labs.
You can also looking for laboratory jobs and opportunities on Aggie Job Link, the Undergraduate Research Center (URC), and the Internship and Career Center (ICC). Sign up for the listserve of URC and ICC to receive weekly emails about new position openings. Read more about getting involved in research in "What Undergraduate Research Can Do For You".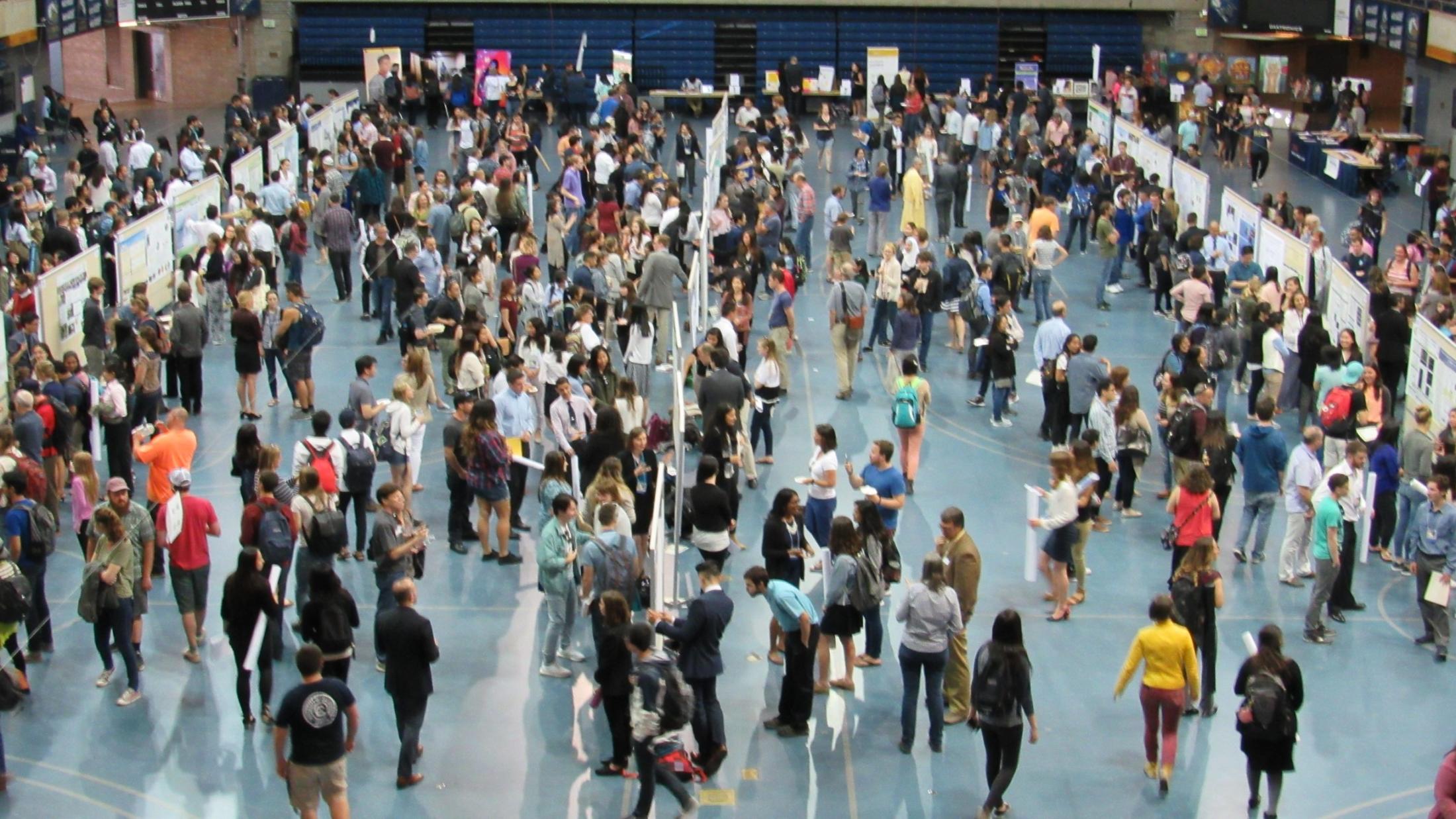 A picture of the Undergraduate Research Conference. (https://urc.ucdavis.edu/conference/)
Linya Hu
BASC Peer Advisor
3rd year, Genetics & Genomics Major